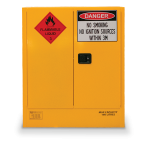 Industries everywhere work with flammables, such as liquids and powders that could combust or catch fire when mixed with other liquids. If your company works with such products, it is essential that you keep them separated from others and in a safe place.
Flammable cabinets are the perfect solution because they are bright in colour, highly noticeable, and have a variety of features that can prevent emergencies. Such cabinetry can hold a variety of flammables. The inside is sectioned off, making it easier for you to house multiple containers.
Flammable cabinets are designed for safety and security. You must use them and employees should know how to be careful while utilising the products, but you also have to contend with how to store them when not in use. For example, if you leave them on a shelf next to other products, they could spill and cause a fire. While spillage can happen inside the cabinet, they have features to prevent it from leaking, such as containment trays that won't react to the liquid. Therefore, you can rest easy knowing that, if something happens, the cabinet is fully contained along with everything inside.
At EcoSpill, they know how challenging it can be to keep up with all regulations. However, it is your job or that of your safety manager to ensure that products are safe and stored away from the rest. To do this, flammable cabinets are essential. Their products come complete with steel double walls, electrostatic powder coat finishing, and dual ventilation vents. They also have self-closing doors that latch automatically, which reduces human error and spillage. Along with such, they have adjustable shelving so that you can store a variety of container sizes without fear that they will be too large or cumbersome to fit inside.