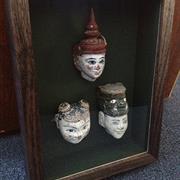 Most people have a favourite sports team or like to collect other items that are used in sports, such as pennants, jerseys, and the like. You may have a ton of memorabilia right now that is collecting dust in your storage area. It could be full of moths, spiders, and other bugs because it's not protected and safe through framing techniques.
One of the most significant problems people find is that time and storage takes a toll on their items. Moisture can cause items to yellow or get mildew stains while the air itself could cause dust and other problems. If you leave it in the sun, the harmful UV rays could fade it.
Memorabilia framing ensures that your items retain their value, as well. You may never decide to part with them because of their sentimental value, but some sports items can be worth a lot of money. When you bequeath it to someone on your passing, they may decide to sell it, and you want them to get top dollar. While the physical attributes of your items are paramount and you want to keep them looking good, the frame itself can also help to draw attention to the item. You can display it prominently wherever you wish and will know that little hands can't soil it or tear it.
At Amarisco Framing & Mounting, they understand that your passion is what makes you happy. They never want you to be without your treasured items, but they also know that keeping them protected is essential. Therefore, they offer a variety of custom frames built to your specifications and using the materials you desire. They can frame your sports items, trophies, artwork, jerseys, and much more. Therefore, you can ensure that your memorabilia is always safe and protected, ready to be enjoyed for years to come.